Welcome to DMV Music. Website of guitar player/songwriter David Vaccaro. Here you'll get the latest and greatest on David's current band Neon Alley along with info about his studio band V-Project.

NEON ALLEY

A 3-piece neon blast of guitar-driven hard rock, Neon Alley stays true to its roots in the classic bands of the 70's and 80's all the while keeping one foot grounded firmly in today's musical landscape.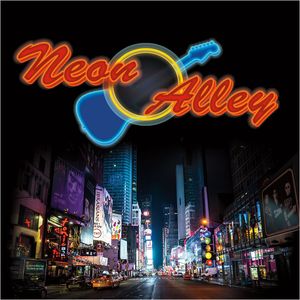 Like the neon alley's of cities and towns across the country, some are bright and new, while others raw and gritty,  you'll find that Neon Alley's debut CD is kind of the same.  At times a little bit raw and gritty, like the CD opening track That's How It Is. While at other times, polished  to a smooth glow, as in the semi-ballad I Only Want To Be With You. Yet never over-produced to sterilized perfection. It's real.

For those fans of V-Project you'll find info on both Lost Demos and New Machine. Both "must-haves" for true Robin McAuley and James Christian fans. Though first issue copies have become somewhat of a collectors item (Lost Demos in particular), you can still get both CD's right here by visiting the DMV Music Store.  Or, click the BUY NOW button to the right.

Speaking of the DMV Music Store, we've got some pretty cool new Neon Alley T-shirts to celebrate the release of the debut CD. Check em out, they look pretty sharp. You can get one in any color you want too, as long as it's Black. The favorite color of musicians everywhere, right?

Please join our mailing list so you can get the inside scoop on upcoming DMV Music releases.

Thanks for stopping by!



Please check out the Neon Alley News page for reviews and interviews on the new CD.
Director Vladimir Munity directed our two Neon Alley videos from our first CD. We've also got a cool video mashup for our cover of Elvis Presley's Jailhouse Rock. Check it out!
_______________________________
Now On Sale
Click the CD image to order!